Lifestyle & Living Options
Live the Life You Choose
Explore our living options by clicking below. We have just the right amount of care and support for whenever the need arises - all under one roof.
There's so much that Fountain View Village has to offer. Explore our exciting activities, plentiful amenities, and helpful services by clicking each category below.
At Fountain View Village, you'll never run out of things to do! We offer a daily calendar of activities that happen right on campus, and everything Fountain Hills has to offer is right outside your door.

Learning
From book clubs to brain games, fascinating lectures to compelling classes, there are plenty of opportunities to stimulate your mind and be a lifelong learner.

Fitness
Our activities calendar features a full complement of exercise classes, and you can always get your laps in at our outdoor pool. Plus, our Fountain Hills campus is the perfect location for lovers of hiking, biking, boating, and golf. We are in close proximity to Fountain Hills Overlook Trail and the McDowell Mountain Regional Park, and also have three golf courses nearby: FireRock Country Club, Eagle Mountain Golf Club, and We-Ko-Pa Golf Club.

Fun
How can you have fun at Fountain View Village? There are too many ways to count! Movies, games, arts and crafts, trips and outings, live music and dancing, clubs and happy hours … they're all happening here! Plus, all the cultural and entertainment opportunities such as the the Fountain Hills Artist Gallery, incredible dining, and big-time sports of Phoenix and Scottsdale are just a car ride away.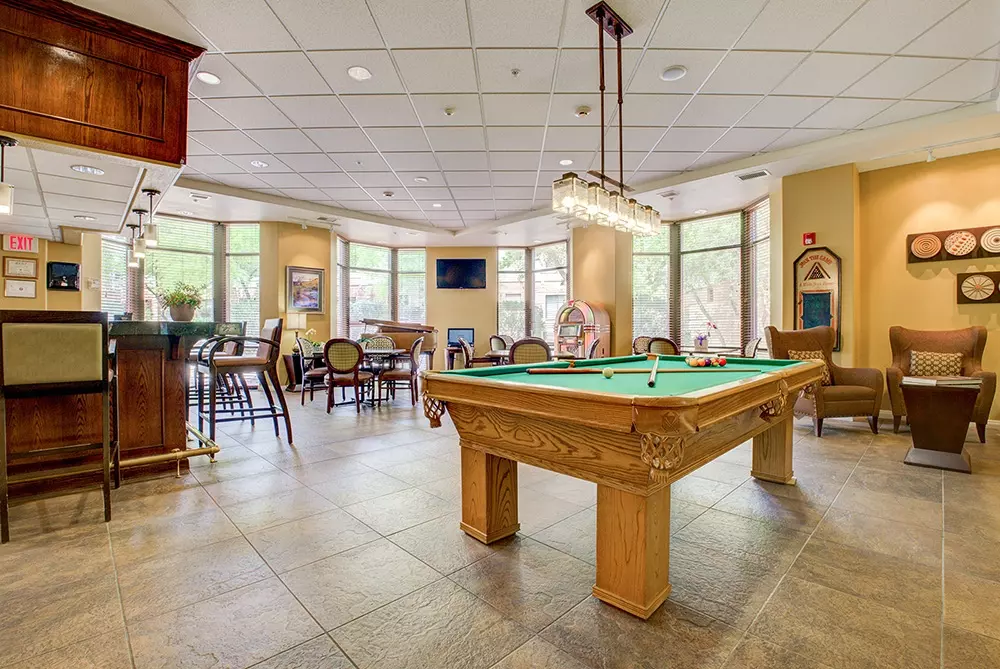 At Fountain View Village, you'll live a life of freedom and relaxation surrounded by the beauty of the serene Sonoran landscape, with all the charms of a small desert town right outside your doorstep. And here on our campus? Well, of course, amenities abound!

Beautiful Outdoor Spaces
Our lovely courtyard and patio areas are the perfect places to gather with family and friends for fun and conversation.

Fitness Center
Stay in shape with our full complement of fitness equipment and take part in our group classes with friends.

Art Center
Get inspired, indulge in your favorite hobbies, or learn new skills in our well-equipped art center.

Outdoor Pool
Get in your laps, then relax and soak up the warm Arizona sun!

Multiple Dining Venues
Your dining experience is your choice. You can enjoy our elegant main dining room, the casual bistro, or you can always reserve our private dining room for special events.

Cozy Library
There's no better place to settle in for a quiet afternoon with a good book.

Salon and Spa
We have exclusive spa, salon and barber services right here on campus so you can always look and feel your best.

Billiards, Game Room, and Theater
Play some cards, challenge friends to a game of billiards, catch a movie in our theater, or watch the game on the big screen--there are lots of places to get together and have fun at Fountain View Village!

Pet-Friendly
We know your furry friend is part of your family, and, at Fountain View Village, we're all about family!

24-Hour Staffing
There's always someone here to help, 24/7/365.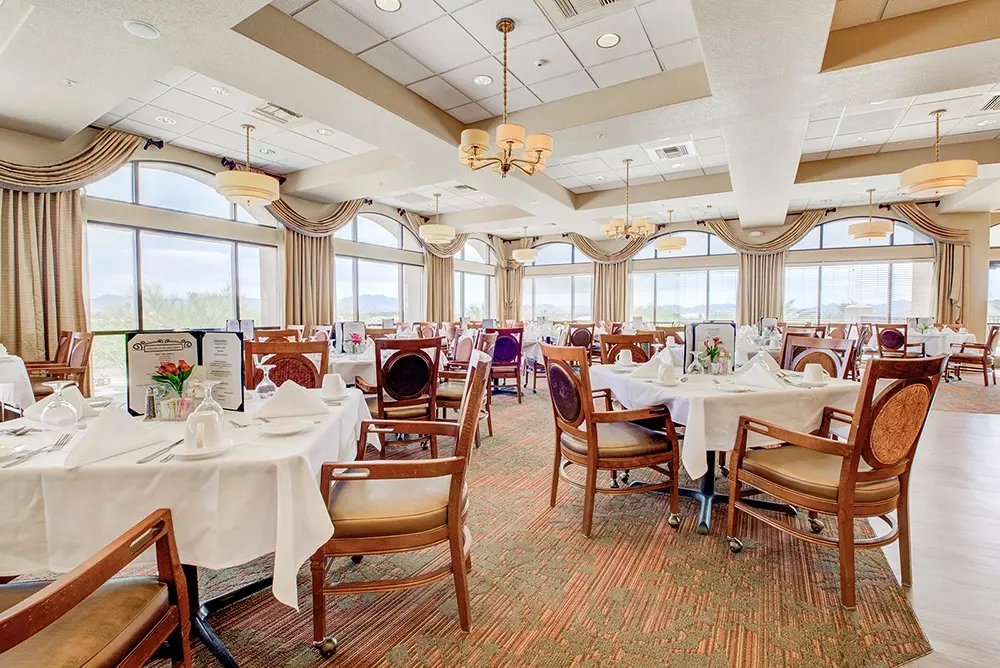 At Fountain View Village, life truly becomes maintenance free. Here are just some of the many services we provide, so you can live your life just the way you want!

Housekeeping and Apartment Maintenance
We provide weekly housekeeping and prompt, and complete maintenance of your apartment home so you can live worry free.

Lawn Care and Grounds Maintenance
We always keep Fountain View Village looking beautiful and inviting for you and your visitors.

Transportation
Transportation to medical appointments, shopping, outings, and more is available throughout the week.

Emergency Alert and Response System
We have the systems in place to keep you safe and give you peace of mind.

Utilities
All utilities (except phone) are part of your monthly fee, and free Wi-Fi is available in all common areas.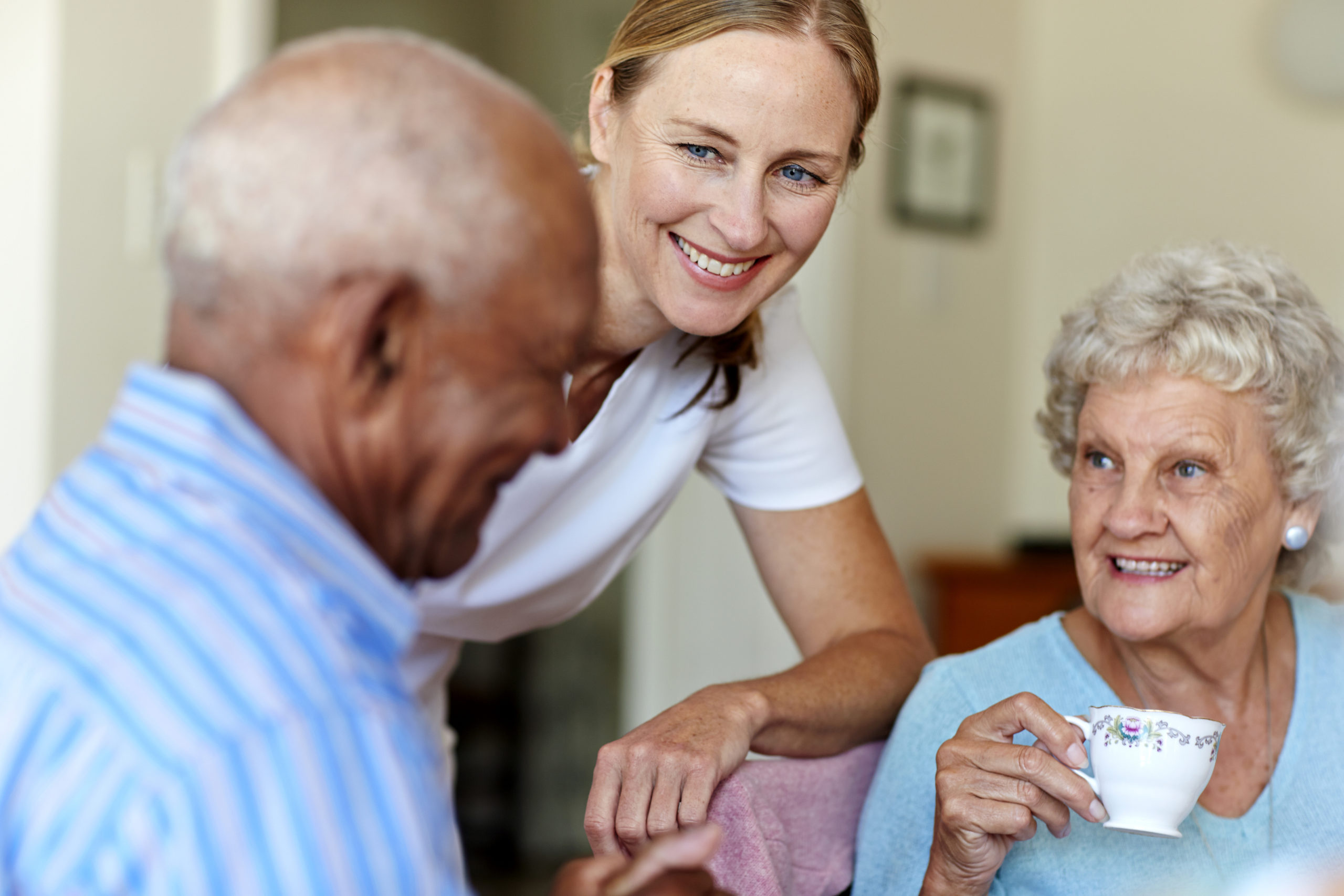 Elegant Farm-to-Table Dining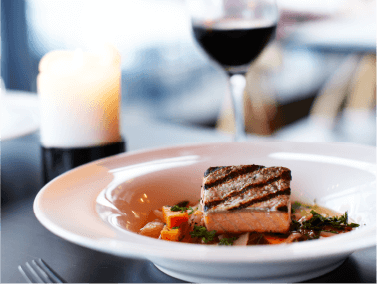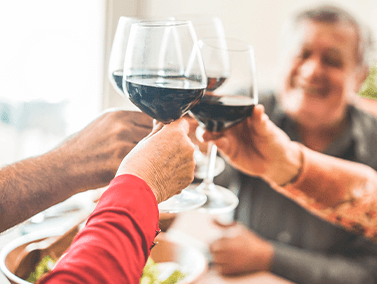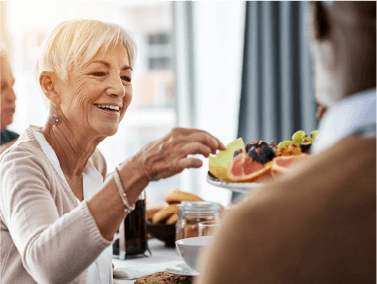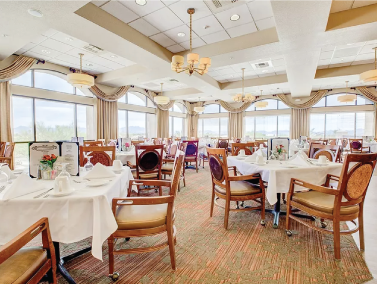 Our Executive Chef and master culinary team serve up three perfectly prepared meals every day in our elegant dining room using only the freshest farm-to-table ingredients. Have a restricted diet? Never a problem. You'll always be able to find something on the menu that's right for you. And if you're looking for a fun place to gather for a light bite with friends, you can stop by our casual bistro any time throughout the day.
Spacious Apartments. Inspired Designed.
You'll love our light-filled, beautifully appointed one- and two-bedroom layouts featuring walk-in closets, high ceilings, a balcony or terrace, and an individual washer and dryer and every apartment. Take a look at our sample floor plans below. There's sure to be one that's perfect for you!
Contact Us for Availability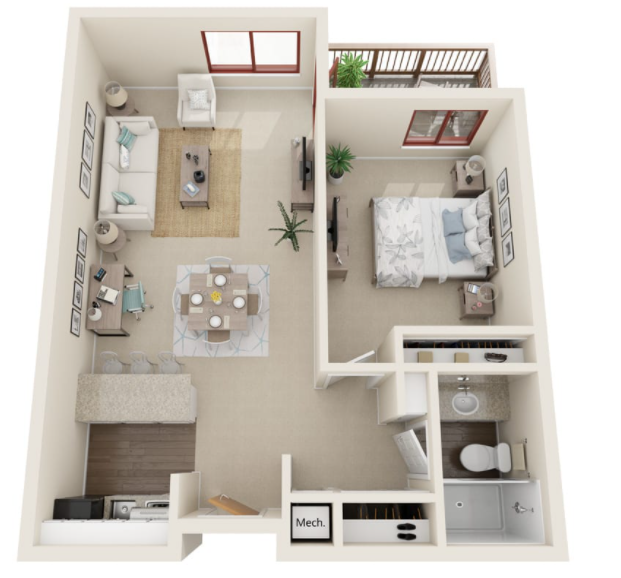 Independent Living 1 Bed
1 Bed - 1 Bath | 670 sq. ft.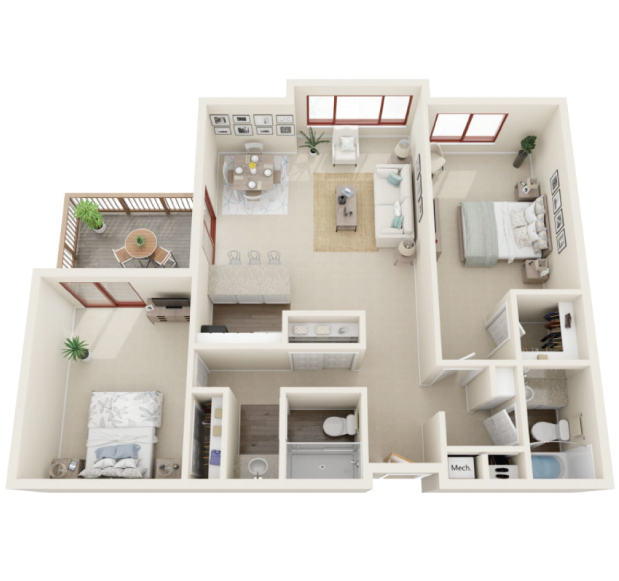 Independent Living 2 Bed Deluxe
2 Bed - 2 Bath | 1015 sq. ft.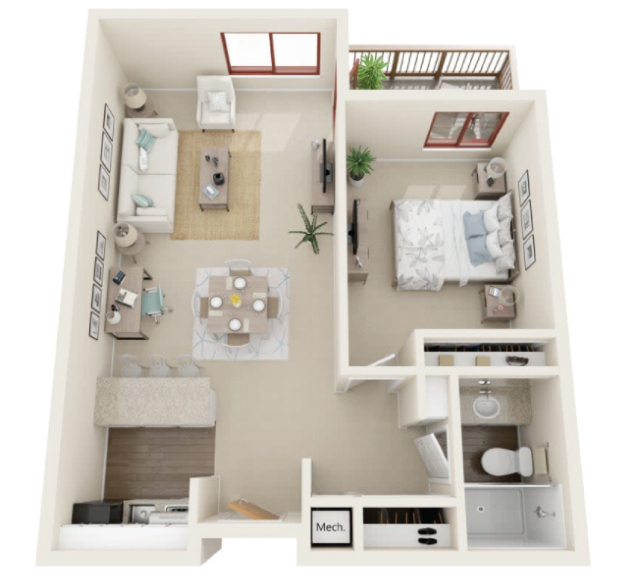 Assisted Living 1 Bedroom
1 Bed - 1 Bath | 620 sq. ft.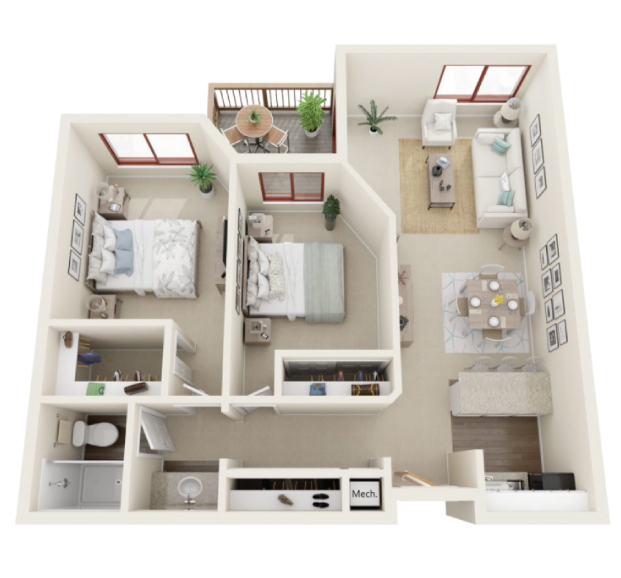 Assisted Living 2 Bedroom
2 Bed - 1 Bath | 850 sq. ft.
*Additional floor plans available. Contact our team to find a floor plan option perfect for you or a loved one.
FAQs
An independent living community is the perfect place for vibrant seniors who are able to enjoy an active life and want the total freedom of a carefree retirement lifestyle. Home maintenance and yard work become a thing of the past, and the community provides a wide range of services and amenities—including dining, a full calendar of social opportunities and entertainment, transportation, cleaning, health and wellness activities, and more.
Yes, Fountain View Village is a pet friendly community! We know your pet is a member of the family, and, here, family is always welcome!
Assisted living gives you the helping hand you need to keep active, stay engaged, and pursue your passions. You'll live in a beautifully appointed apartment home and receive assistance with the basic activities of daily living, tailored to your specific needs, such as help with bathing, dressing and grooming, and medication management. Nursing homes, on the other hand, are for those with chronic medical conditions or disabilities, or those in chronic pain, who require round-the-clock care and supervision by licensed skilled nursing professionals.
Memory care at Fountain View Village provides a specially designed, whole-person approach to Alzheimer's care and dementia care. Residents live in a warm and friendly, family-like community with the safety of 24-hour onsite security and the compassionate care of highly trained personnel who implement proven memory care programs that encourage and celebrate remaining abilities. It would be virtually impossible to duplicate this level of round-the-clock safety, sense of community and socialization, and specific expertise in Alzheimer's care by using an in-home care service.
While both assisted living and memory care provide assistance with the activities of daily living, such as help with bathing, dressing, grooming, and medication management, memory care at Fountain View Village features Heartfelt CONNECTIONS—A Memory Care Program®, a specialized whole-person approach to Alzheimer's care and dementia care designed to promote physical and emotional well-being, prolong daily functioning, and maintain a sense of purpose, satisfaction, and quality of life.
Skilled nursing within a senior living community provides 24-hour licensed nursing care. This area within a community primarily provides long-term care or rehabilitative therapies for patients and residents who need medical or nursing care and is ideal for those with chronic medical conditions or disabilities, those in chronic pain, or those who require round-the-clock care and supervision by licensed skilled nursing professionals.
The skilled nursing area of a senior living community is not like a hospital, although many patients and residents utilize this area of care after a hospital stay. While this area of the community does provide advanced levels of on-going long-term care as well as short-term rehabilitative services, the suites and spaces are designed to be warm and comfortable and reflect a home-like environment.
Still Have Questions About Fountain View Village?
We'd love to hear from you! Just reach out to our expert team and we'll be happy to help you in any way we can.
Contact Our Team